2014-07-04: The Annual Harp Festival (An Chúirt Chruitireachta), took place in An Grianan, Termonfeckin, County Louth, Ireland.
This is organised by Caride na Cruite (Friends of the Harp) which is an organisation founded over 50 years ago in 1960 to encourage playing of the Irish Harp (Ireland's national symbol). In deed I have been on the committee for the past number of years and act as treasurer to the organisation. I attended every night and did the photography (as usual). In fact this year I videoed all the concerts for archival purposes. So I was quiet engaged during all the concerts operating both the Video Camera and my DSLR shooter stills where appropriate. I don't use flash photography for two reasons: firstly I am always loath to use flash for fear of distracting the performers and secondly, I have over the years built up a significant array of high end lenses which work well in low-light conditions.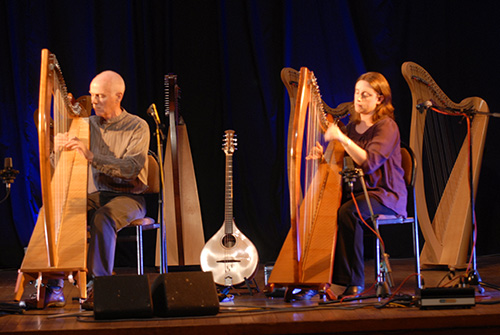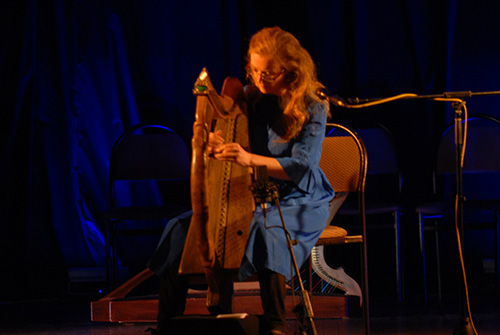 As usual the concerts were excellent. The fife nights kicked off with Helen Davies, Anne-Marie O'Farrell on harps with storyteller Nuala Hayes and Danish wind player Poul Hoexbro on Sunday 29th June. Then on Monday 30th June, all the tutors performed which was wonderful. On Tuesday 1st July, Grainne Hambly and William Jackson provided excellent interpretations of various Irish and Scottish tunes. Earlier that night Dearbhail Finnegan and the Meath Harp Ensemble from Nobber performed the 'Chronicles of Meath' which is a new composition by composer Vincent Kennedy. Wednesday night was devoted to the wire strung harp (the more usual one nowadays are nylon strung), but in ancient times there was no such thing as nylon! Siobhán Armstrong opened the night and this was followed by Andrew Lawrence King from London. Then on Thursday 3rd July, Cormac De Barra and Punk icon Hazel O'Connor teamed up to provide the music for the gala concert.
---